---
More from this collection
Wireless Digital 2-Axis Level
Product ID:
Digi-Pas DWL-1500XY is a Bluetooth enabled dual-axis precision digital level. Its high resolution (0.001°) and high accuracy (±0.002° for 0 to ±0.5° and ±0.004° for other angles) measuring capability qualifies it for majority of entry level industrial applications. Additionally with its built-in Bluetooth Low Energy feature, the user can easily read and capture leveling readings on the screen of an iOS/Android smart device or a Windows PC while adjusting machine's orientation.
Our powerful measurement reading software, MultiGage, makes this digital level a more effective tool, allowing the user to read measurements from multiple devices at once, either continuously or in single capture mode with the press of a button. Additionally, there are many more innovative features in the app, such as an analog probe meter, cloud data streaming, a custom calculator, and so on, to make dimensional measurement faster and easier.
Wireless Digital 2-Axis Level
Specification
Measurement Range
0 - ±2°
Resolution
0.001°
Accuracy
±0.002° (0 - 0.5°)
±0.004° (other angles)
Measurement Speed
≤ 5 sec
Transmission Range
15 m
Working Temperature
-10 - 50 °C
Dimensions
6 x 2 x 1.5 in
Battery
2x AA
MultiGage for iOS and Android allows the user to read and capture readings from multiple digital levels. Click the app icons below to view more details or contact us for more information.
App Features
Remote reading of dial from app in real time (1 sample/second)
Simultaneous reading of multiple devices
Continuous or single data point recording
Max, Min, TIR measurement
Remote zeroing from the app
Large analog probe meter with adjustable range
Full-screen large digital readout on the app
Custom formula calculator
GO/NG judgment with green/red color indication
Real-time cloud data streaming worldwide
Data saving in local database
Data export in CSV via email and cloud drives
Apple Watch support
Windows
With this USB Bluetooth Dongle and our FREE software MultiGage, you can also stream readings from multiple devices wirelessly to any Windows PC running Win7 or later.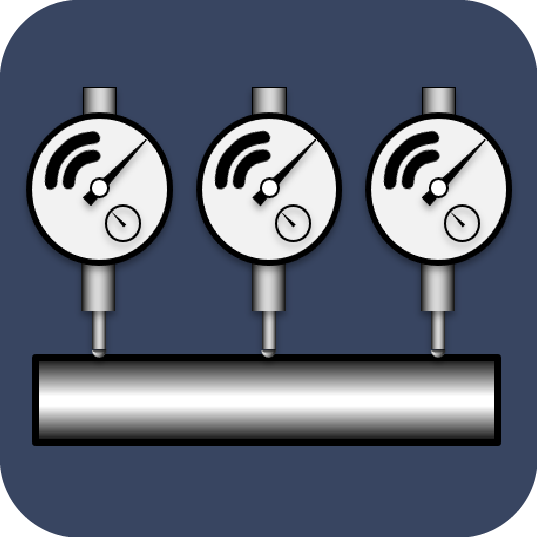 Wireless Digital 2-Axis Level x1

USB Manual x1
BLE Dongle (Optional)
*Required for PC use