Wireless Load Gauge
Product ID:
Motionics' wireless load gauge combines a high-strength industrial force gauge with the safety and convenience of Bluetooth Low Energy technology.
You can connect this gauge to your iOS, Android, or PC device with our free software, MultiGage, and read and record measurements remotely. This takes you out of hazardous, hard-to-reach locations when taking force measurements.
Our wide range of models allows for use in variety of force measurement applications (tension load cells, compression load cells, and dynamometers) and resolution, accuracy, and capacity requirements. With a heavy-duty, IP67-rated outer shell and an incredibly high weight-to-strength ratio, this force gauge is suitable for even the harshest environments.
WLG-D1
WLG-C1
WLG-T1
Capacity
14,300lb  / 

6.5te




2200000lbs / 

1,000te (depends on model)

110,0000lbs / 

500te (depends on model)
Resolution
2lb / 

0.001te

1000lb / 

0.5te (depends on model)

200lb / 

0.1te (depends on model)
Accuracy

±

0.2% of full scale
±0.1% full scale
±0.1% full scale
Wireless Data Rate
10Hz
Transmission Range
100m / 328ft
Working Temperature
14° to 122°F
IP Rating
IP67
Battery
4x AA
Battery Life
500hr
iOS
This wireless load gauge works with MultiGage, which
 allows the user to connect to multiple devices and read/record measurements wirelessly on your iPad or iPhone. It also works with our dedicated Pile Load Test app, alongside wireless dial indicators, or BlueDials.
 Click the app icons below to view more details on the App Store or contact us for more information.
Pile Load Test is an app that works with wireless dial indicators and wireless load gauges for wireless pile load testing.

Android
MultiGage Reader offers multiple device connectivity on Android devices. Click the app icon below to download for free on the Google Play Store or contact us for more information.
Windows
MultiGage Windows, along with this USB Bluetooth Dongle, allows you to stream readings from multiple devices wirelessly to any Windows PC running Win7 or later.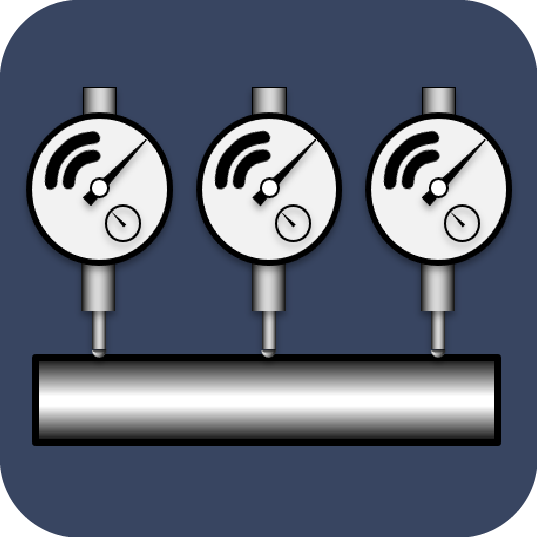 Wireless Load Gauge 1x
Protective Case 1x
AA Battery 4x
User Guide 1x
---
More from this collection
Liquid error (layout/theme line 356): Could not find asset snippets/shine-trust-js.liquid