---
More from this collection
Wireless Measurement Read WiMER Series 2
Product ID:
Transmitter only, gage NOT included. 

Here are two compatible digital test indicators:

Digital Test Indicator 54-562-777 

Digital Test Indicator 54-562-888 

WiMER2 is a wireless transmitter designed for Fowler/Sylvac users. It collects readings from Fowler/Sylvac instruments with RS232 outputs and transmits data wirelessly via Bluetooth Low Energy to iPhone, iPad, Android, and Windows.

WiMER2 also powers the instrument connected to it. There is no additional external power supply required.
Compatible Fowler Digital Instruments:
Micrometer 54-815-xxx
Micrometer 54-866-xxx
Micrometer 54-870-xxx
Caliper 54-100-xxx with data output
Caliper 54-110-xxx
Dial Indicator 54-530-xxx
Test Indicator 54-562-xxx
More
Feel free to confirm with us if you are not sure about the compatibility of your digital instrument with WiMER2.


| | WiMER2 |
| --- | --- |
| Measurement Range | 0.5 in/12.7 mm (depending on instrument) |
| Resolution | 0.00005 in/0.001 mm (depending on instrument) |
| Accuracy | 0.0005 in (depending on instrument) |
| Wireless Data Rate | 10Hz |
| Transmission Range | 20 m (indoors)/30 m (outdoors) |
| Working Temperature | 0 - 50 °C |
| Dimensions | 2.50 x 1.63 x 0.80 in |
| Rechargeable Battery | 400 mAh |
| Battery Life | 20 hrs |
| Charging | 5 VDC USB |
iOS
MultiGage allows the user to connect to multiple devices and read/record measurements wirelessly on your iPad or iPhone. There are also other apps compatible with WiMER2, such as our Rotor Runout app. Click the icons below to view more details or contact us for more information
.
Apple Watch Compatible
Companion Apple Watch app for MultiGage Reader on iPhone

View wireless measurement device readings on your wrist.

Start/stop continuous data recording or capture single reading by tapping on Apple Watch
Android
MultiGage Reader offers multiple device connectivity on Android devices. Click the app icon below to download for free on the Google Play Store or contact us for more information.
Windows
With this USB Bluetooth Dongle and our FREE software MultiGage, you can also stream readings from multiple devices wirelessly to any Windows PC running Win7 or later.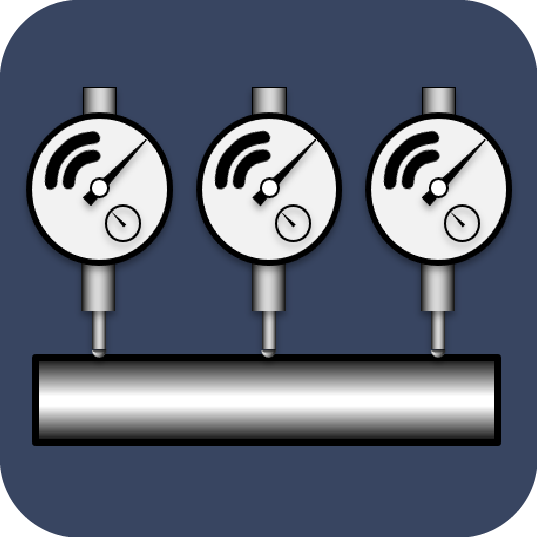 LabVIEW
LabVIEW is also in the list of compatible platforms. We provide Dial Reading VI covering device scanning, connection and data collection, and you can build your application on top of it.
WiMER2 Base x1

Trigger Switch x1

USB Charging Cable x1

USB Power Adapter x1

User Manual x1
BLE Dongle (Optional)
*Required for PC use
Data Cable (Optional)
Extended Warranty (Optional)