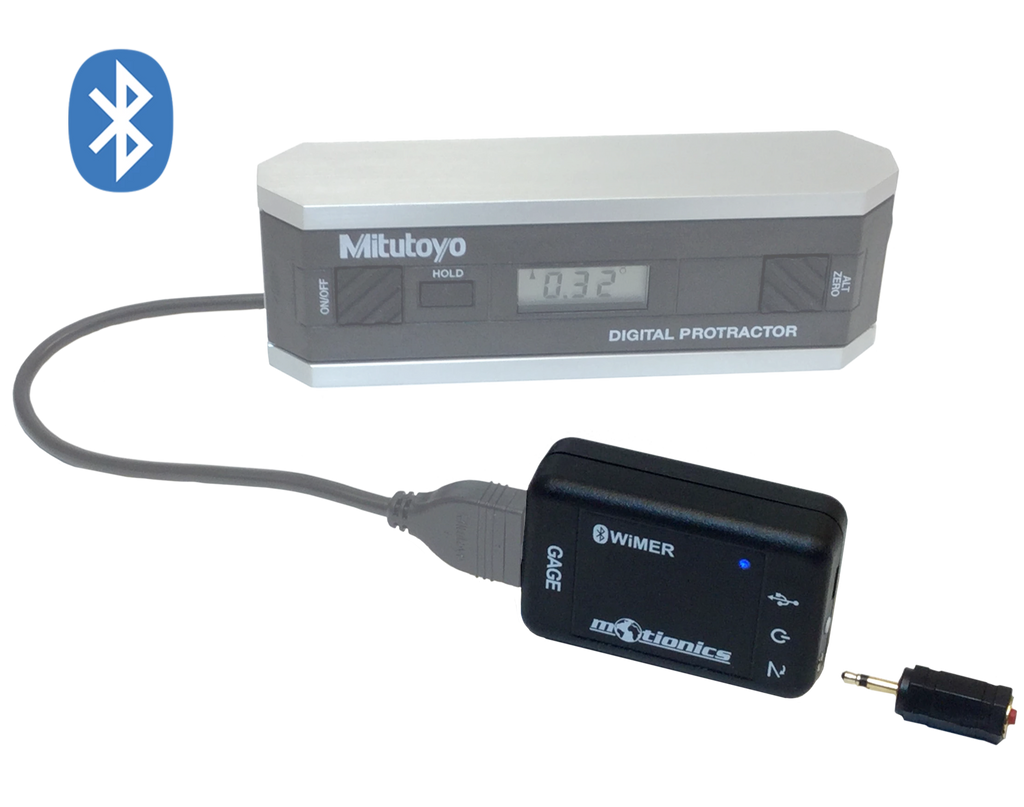 ---
More from this collection
Wireless Measurement Read WiMER Series 4A - Extended Warranty
Product ID:
WiMER4A is the wireless transmitter for Mitutoyo digital protractor 950-318. 
Mitutoyo 950-318 is a gravity electronic sensor based digital protractor. It covers a measurement range of 360° (90°x4) with high resolution (0.01° for 0° to 9.99°, 0.1° for 10° to 90°) and high accuracy (0.05° for 0° to 10°, 0.2° for 10° to 80°, 0.1° for 80° to 90°). It features a machined aluminum frame with an easy-to-read liquid crystal display.
Working together with WiMER4A, 950-318 readings can be wirelessly viewed and collected on iPhone/iPad/Windows PC. 
The WiMER4A is available as is, or can be bundled with the Mitutoyo 950-318 digital protractor. You can select either option above. If you are using the WiMER4A with a PC, the PC dongle above is a required for use.

Included in the package:
WiMER4A transmitter x1
Mitutoyo 950-318 x1 (optional)
Mitutoyo SPC cable 936937 x1
USB power adapter x1
USB charging cable x1
 Brochure
 Full Product Catalog No.111
Dimension: 4.09 x 2.20 x 0.91"
Resolution: 0.01° (0° to 9.99°), 0.1° (10° to 90°) (Mitutoyo 950-318)
Accuracy: 0.05° (0° to 10°), 0.2° (10° to 80°), 0.1° (80° to 90°) (Mitutoyo 950-318)
Range: 360° (90°x4) (Mitutoyo 950-318)
Sampling Frequency: 2HZ
Wireless Working Range: up to 10m / 33ft (line of sight)
Working Temperature: 32 to 122ºF
Battery: 400mAh rechargeable
Battery Usage Life: 30hrs
Charging: 5VDC USB and 110VAC
iOS
WiMER4A works with the Multigage Reader Application. Click the icon below to view this application. 
Windows
With this USB Bluetooth Dongle and our FREE software Dial-Reading, you can also stream WiMER-1 readings wirelessly to any Windows PC running Win7 and later.

 

 

 

Liquid error (layout/theme line 356): Could not find asset snippets/shine-trust-js.liquid