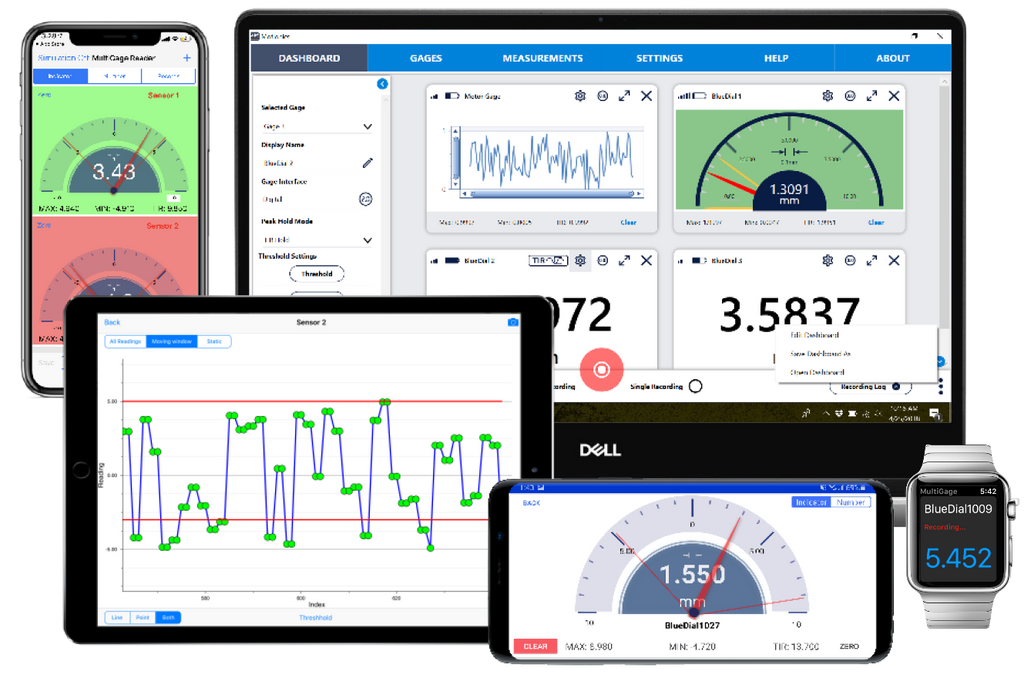 ---
More from this collection
MultiGage License for Non-Motionics Products
Product ID:
Please email us S/N on the back of the device after placing an order. We will return with an activation code. 
LICENSE IS ONLY REQUIRED FOR NON-MOTIONICS DEVICES BOUGHT FROM A THIRD PARTY VENDOR. ONE LICENSE IS REQUIRED FOR EACH DEVICE. THE MULTIGAGE LICENSE IS INCLUDED FOR MOTIONICS DEVICES BOUGHT FROM MOTIONICS OR A THIRD PARTY VENDOR AND NON-MOTIONICS DEVICES BOUGHT FROM MOTIONICS.
Each device requires one activation code; if you have multiple devices, you will need to purchase one license per device.
The MultiGage Reader app is able to connect to multiple Motionics Bluetooth measurement devices (14 on iOS, 8 on Android) and receive readings from all of them at the same time. Each device will be assigned an individual panel to display measurement reading, max, min, and TIR. MultiGage Reader provides two options for data recording: continuous recording at up to 10 samples/sec, or one-by-one capturing through button tapping. Recorded data can be plotted in a user-interaction-enabled graph, saved in a database, and exported as a CSV file for further assessment.
Additionally, there are many more innovative features in the app, such as an analog probe meter, cloud data streaming, a custom calculator, and so on, to make dimensional measurement faster and easier.
This license is available for a few different third-party devices, seen below:
Bosch GLM50 is a compact pocket size yet highly accurate laser distance measure. It measures distances from up to 165 feet to within 1/8 inch. Thanks to its built-in Bluetooth Low Energy technology, laser measurement readings can be easily picked up wirelessly in Motionics apps/software on iPhone, iPad, Android, and Windows PC. When working together with other measurement devices in applications such as Benkelman tests, GLM50 provides accurate coordinate reference and greatly facilitates the test process.
Digi-Pas DWL-1500XY is a Bluetooth enabled dual-axis precision digital level. Its high resolution (0.001°) and high accuracy (±0.002° for 0 to ±0.5° and ±0.004° for other angles) measuring capability qualifies it for majority of entry level industrial applications. Additionally with its built-in Bluetooth Low Energy feature, user can easily read and capture leveling readings on the screen of an iOS/Android smart device or a Windows PC while adjusting machine's orientation.
Liquid error (layout/theme line 356): Could not find asset snippets/shine-trust-js.liquid