---
More from this collection
Bluetooth Pressure Sensor BluePSI
Product ID:
BluePSI is a wireless pressure sensor used for the measurement of liquid or gas pressure. These Bluetooth-enabled pressure sensors, with the help of our free software, allow you to continuously monitor pressure in multiple locations simultaneously on your iOS, Android, or Windows device.
It has high accuracy (±0.25%FS), has a long battery life (up to 2 years with a coin battery), and is IP67 rated for high resistance to water and dust exposure. Most importantly, it eliminates the need for hard wiring and manual data logging thanks to its Bluetooth Low Energy wireless connectivity.
All models of BluePSI allow you to view and record real-time readings, though some models of BluePSI have a data-logging feature that lets you view past readings, as well. Newer models allow for temperature measurement, as well as pressure.
BluePSI transducers are ideal for safe and efficient pressure measurement for pumps, compressors, hydraulic presses, machinery, excavators, pneumatic equipment, and motors in harsh environments.
With our app/software on iOS/Android smart devices and Windows PCs, users can continuously monitor pressure conditions at multiple locations at once.
BluePSI works with MultiGage, our free cross-platform software that lets you read and record measurements wirelessly on your iPad, iPhone, Android device, or Windows PC.
iOS
MultiGage
allows the user to connect to multiple devices and read/record measurements wirelessly on your iPad or iPhone.
Apple Watch Compatible
Companion Apple Watch app for MultiGage Reader on iPhone

View wireless measurement device readings on your wrist.

Start/stop continuous data recording or capture single reading by tapping on Apple Watch
Pile Load Test
is an app that works with wireless dial indicators and wireless load gauges for wireless pile load testing.
Android
MultiGage Reader
offers multiple device connectivity on Android devices. Click the app icon below to download for free on the Google Play Store or contact us for more information.
Windows
MultiGage Windows, along with this USB Bluetooth Dongle, allows you to stream readings from multiple devices wirelessly to any Windows PC running Win7 or later.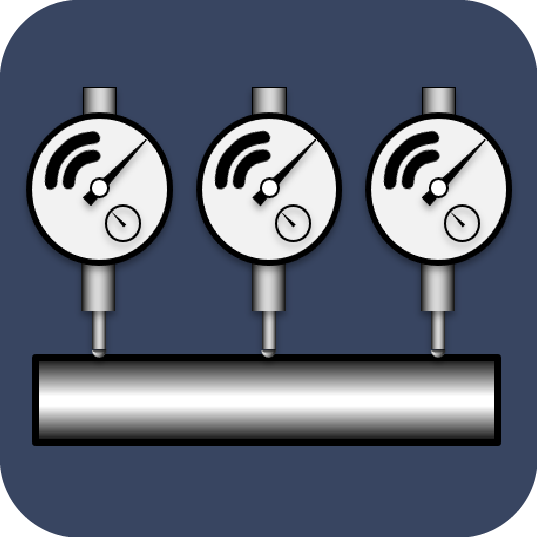 BluePSI x1

CR2050 Coin Battery x1

Battery Spacer (for CR2032) x1

Mini Screwdriver for Battery Removal x1

Tool to Remove Battery Cover x1

User Manual x1
BLE Dongle (Optional)
*Required for PC use
Extended Warranty (Optional)
Brochure
MultiGage Brochure (Software)
BluePSI Selection Guide
BluePSI Spec Sheet
BluePSI Dimensions
 BluePSI Product Presentation
User Manual
Flyer
Full Product Catalog