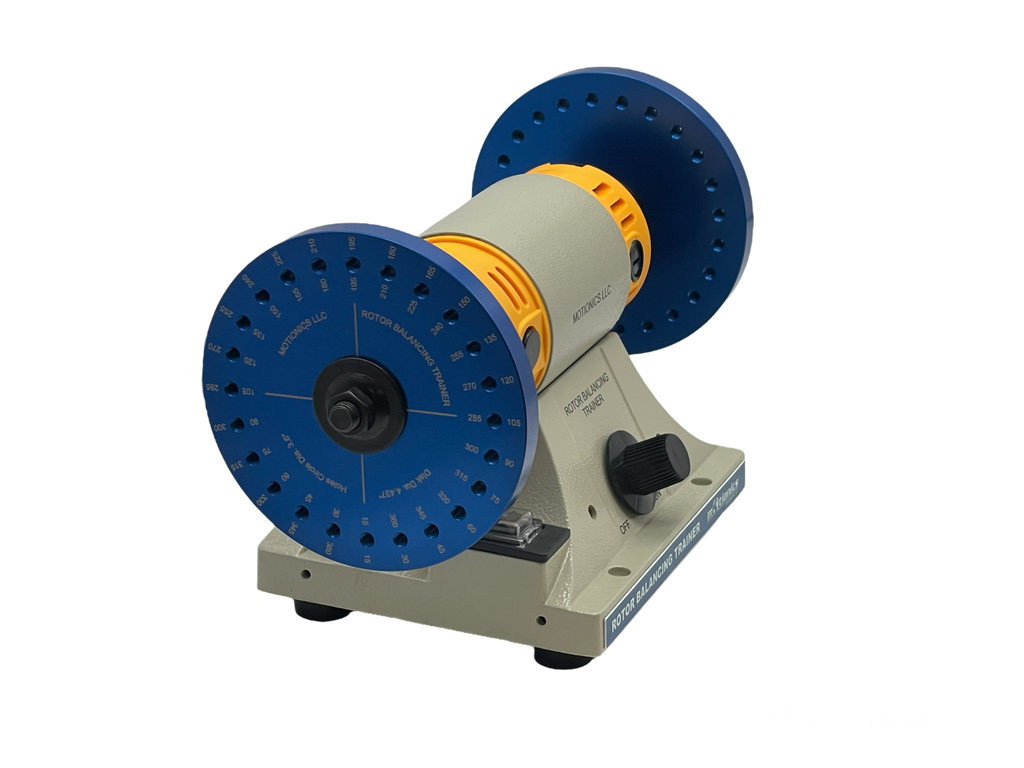 ---
More from this collection
Rotor Balancing Trainer
Product ID:
Motionics Rotor Balancing Trainer is a tool to practice rotary machinery balancing. The rotor balancing trainer has two balancing disks with evenly distributed screws holes, where the operator can mount a weight to create imbalance as well as add trial/correction weights based on calculated results from iRotorBalance app.
Motionics Rotor Balancing Trainer is powered by a 150W motor with a speed controller that runs on a no load speed ranging from 0 to 10000 RPM. The Rotor Balancing Trainer includes a 10-32 screw set, which can be used as balancing weights, and a reflective tape for tachometer reading. 
Voltage: 110/220V, 50/60 Hz 
Power: 150W 
No load RPM: 0 to 10,000 RPM 
iRotorBalance is an educational and technical calculator for balancing of rotating machinery. The application calculates the correction balancing weight and its angular position given the amplitude and the phase of the measured vibration.
VibeSpectra is a reference guide for the predictive maintenance of rotating machinery.
VibraUnits is universal app that converts amplitudes of the most commonly used units in mechanical vibration analysis.
Vibra Calc is universal app that calculates vibration frequencies of rotating machinery components given the specifications of each component.
Motor With Variable Speed x1

Balancing Disks With Arbors and Mounting Nuts x2

10-32 Screw Set as Balancing Weights (1set)

Digital Sacale With 2X AAA Battery x1
Hex Key 1/8 x1

Refelecting Tape For Tachometer Reading

iRotorBalance App (For iPhone and iPad)

VibeSpectra App (For iPhone and iPad)

VibraUnits App (For iPhone and iPad)

Vibra Calc App (For iPhone and iPad)
Liquid error (layout/theme line 356): Could not find asset snippets/shine-trust-js.liquid